Across marketing agencies and IT firms, it seems like there's always a need for multiple team members to access client passwords. Marketing agencies have writers, designers, developers, social media managers, and often freelancers that are working with each client. While IT firms face similar access issues with their own developers, analysts, and support teams. If this sounds like your agency or firm, it's time for a team password manager built specifically for digital agencies and IT firms.
The Team Password Manager for Marketing and IT Teams
So, what is a password manager and why do you need one? A password manager is a software program that allows you to create and securely store passwords.
A good password manager has several layers of security and allows you to quickly access the passwords you need as you work. In today's world EVERYONE should be using a password manager both on the job and at home.
A great password manager gives you layers of security and quick access while going beyond all known security options, offering team password sharing options on an individual record basis. That way, you control the level of access to passwords and other sensitive information based on who's on the team – all while retrieving information so fast you'll think it's on fire!
Why Your Workarounds Aren't Working
As an individual, it's easy to have an "it won't happen to me" attitude when it comes to passwords getting hacked, but with constant security breaches in the headlines, it's important to remember that hackers (or password crackers) are not targeting you specifically.
You may think you've selected a super-secure password, because who's going to know the name of your great aunt's second husband, right? But hackers are not trying to guess your personal information. Passwords are often leaked, stolen, or hacked because the websites storing them are not doing so in a secure manner, NOT because a hacker is able to break encryption to access stored passwords.
Understanding this myth is important to help you choose secure methods of storing passwords both personally and professionally. Ideally, you are using a password manager to create truly strong passwords and securely store them. Here at Techferno we offer a proven security model and then layer on several more ways of protecting your passwords.
In addition to secure storage, a password manager allows you to remember just ONE password to access all your private and client passwords. Using a team password manager, like Techferno, gives you even more control with granular permissions to ensure only the right people have access.
If you are still operating without a password manager in your agency or firm, here are a few reasons why your workarounds aren't working.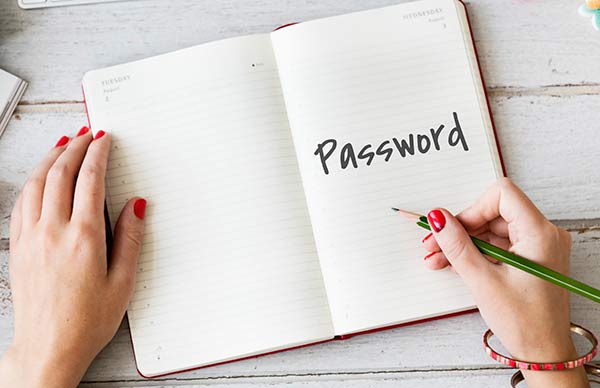 Don't Write Passwords Down
Conventional wisdom clearly tells us this is a no-no, but plenty of people are still under the impression that writing down passwords – on paper – is the way to go. Ignoring the fact that you are in big trouble if you lose that list, aren't you doing your clients a disservice by passing a sticky note between co-workers? Plus, this method still doesn't mean that you won't reuse passwords for separate accounts or create truly secure passwords (long string of random characters).
Don't Place Your Faith in Companies like Facebook or Google
While this is more of a method used by individuals, we thought it was worth mentioning. You know those "Log in with Facebook" buttons? That's what we are talking about here. But stop right there. Don't do it! If you are reading the news at all, you know that companies like Facebook and Google are not at the top of their game when it comes to keeping their client data and passwords secure. And you want to use your login information for their platform across the internet?! Just say, "no."
Don't Use a Limited Number of Passwords Across Accounts
It's tempting to create a few strong passwords, commit them to memory, and reuse them across multiple accounts. You may have some limited security this way, but what really happens is you open up groups of accounts to vulnerability. A strong, secure password for EACH account is the best option for keeping your data safe. The most common way hackers gain access to accounts is by using a password stolen from another account.
Improve Security for You and Your Clients
It's obvious that one benefit of any password manager is having passwords stored in a common place for convenience. But with a B2B team password manager, you'll also be offering your clients a level of security that they may not even realize they're missing.
Clients give you the credentials to their accounts with the expectation that you're keeping that information secure from outside attacks, but they may not realize that controlling access of agency or firm employees and contractors is another level of security that must be kept in check.
We all know the guy that writes down passwords, credit card numbers, or other sensitive information on a sticky note and then puts in in a drawer for later! Or the gal that starts a Google spreadsheet so everyone on her team can see the client passwords whenever they need them. Or the contractor that keeps a file on his desktop called "client passwords.txt" and doesn't always lock his computer when away from it.
Stop the unsecure information sharing and build stronger – and more secure – internal processes to give your team the right access, fast.
Techferno: The Best Team Password Manager
Meet the Techferno Password Manager. Built with web development, marketing agencies, and IT professionals in mind, it was designed as a B2B team password manager, but is simple enough for any business or individual to use.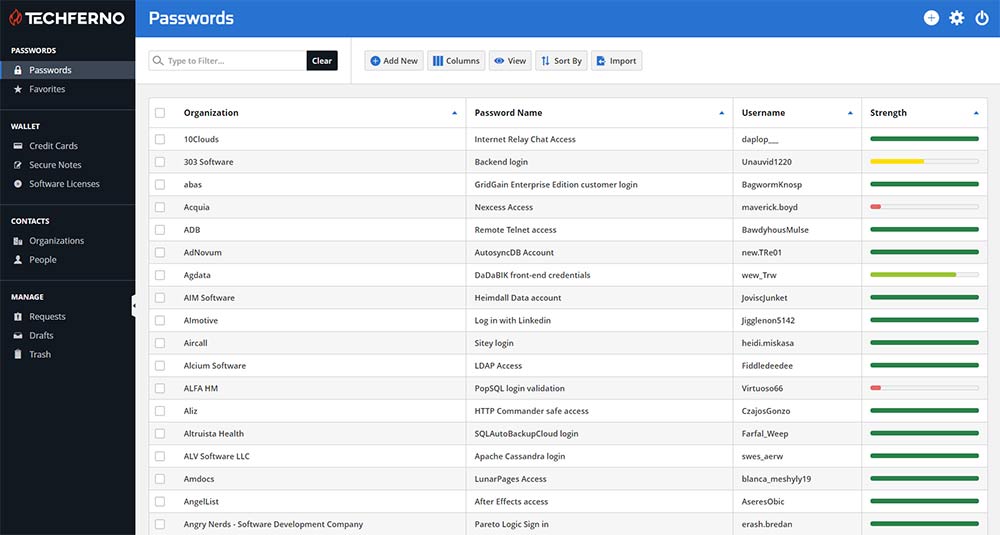 Beyond Bank-Level Security
Techferno Password Manager uses a proven security model that is known to be impenetrable – then we made it stronger.
Simple, Controlled Sharing
Techferno Password Manage lets you easily grant access at various levels using our proprietary permission selector, one of many great features.
Protected, Personal Records
In addition to shared team passwords, you can keep track of private passwords, notes, and more in Techferno Password Manager – other users can't see them!
Make life easier with features that are centered around how you work in real life. Techferno Password Manager is built to move as fast as you do.

Protect Your Passwords with a 14-Day Free Trial
It's time to take control of your client passwords. Techferno Password Manager offers beyond-bank security and multiple access levels so you can adapt the tool to how your team works.
Designed for agencies, IT companies and any other business that manages several passwords, Techferno Password Manager allows you to share access to passwords and more while retaining the protection of our state-of-the-art secure platform.
Sign up for your 14-Day Free Trial today!
GET SOCIAL WITH TECHFERNO
---